Tuesday, 23/11/2021 22:49:22 (GMT+7)
The signing of Memorandum of Understanding between Vinh Phuc Province of Vietnam and Tochigi Prefecture of Japan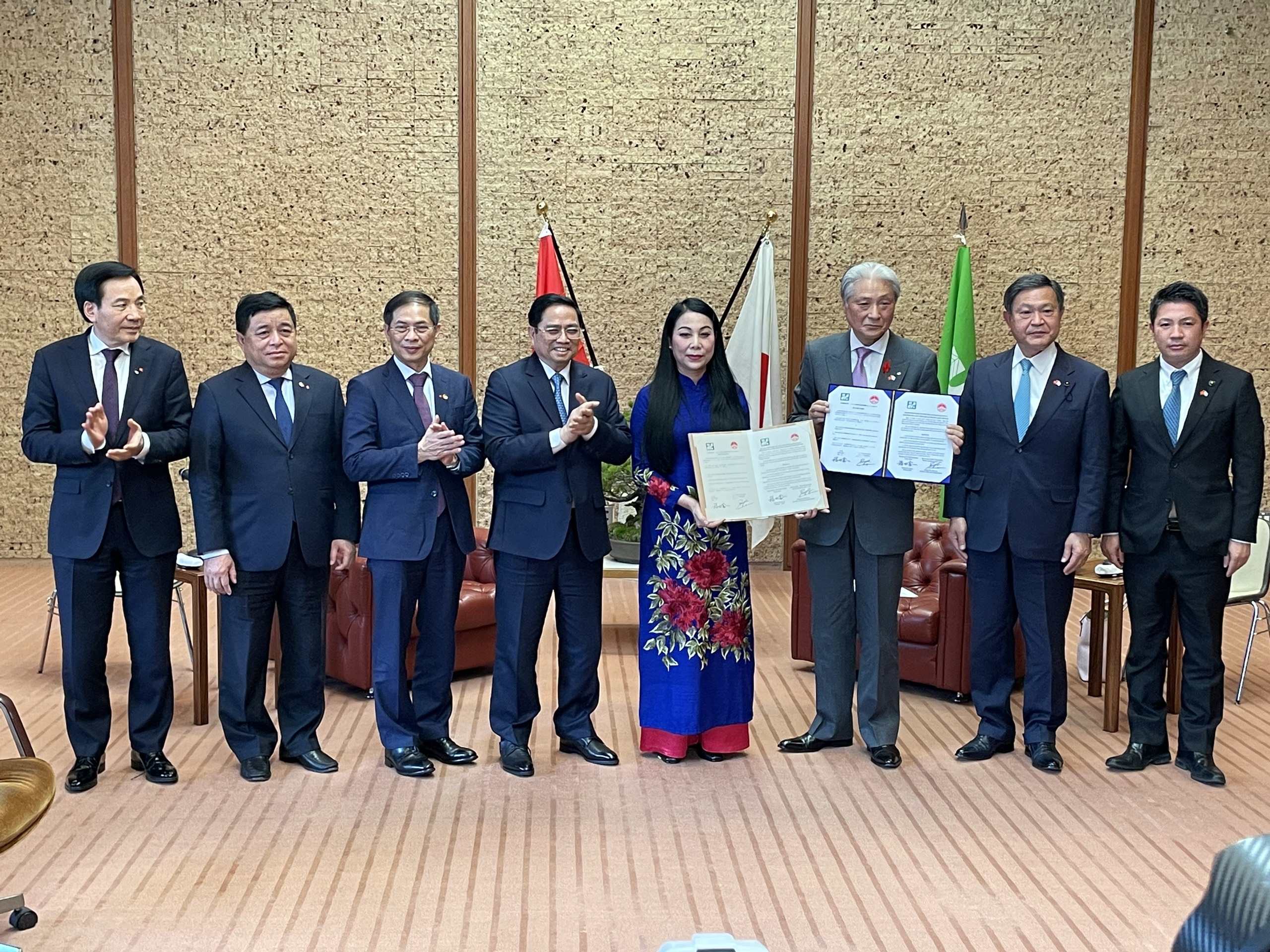 Ms. Hoang Thi Thuy Lan, Secretary of the People's Committee of Vinh Phuc province, President of the Provincial People's Council and Mr. Fukuda Tomikazu, Governor of Tochigi Prefecture signed a Memorandum of Understanding to extend strategic partnership between the two localities at Tochigi's headquarters on November 23th, 2021. The signing was welcomed by the Prime Minister Pham Minh Chinh on the occasion of his Japan visit.
The parties suggested extensive exchanges and cooperation in fields such as: investment attraction, trade promotion, education and training, health, science and technology, tourism, high-tech agriculture…Vinh Phuc province suggested Tochigi Prefecture expand investment in terms of: electronic technology, informatics, telecommunications; mechanical industry (manufacturing and assembling cars, motorbikes, electric cars…); new material; tourism services, luxury hotels and restaurants, logistics services; hi-tech agriculture, processing agricultural products for export…
Speaking at the conference, Secretary Hoang Thi Thuy Lan sincerely thanked Prime Minister Pham Minh Chinh for his directing and witnessing the important event. She was thankful for the support of the ministries, branches and diplomatic agencies of Vietnam and Japan that connects and motivates cooperation between Vinh Phuc and Tochigi. The Secretary said that Tochigi's strengths in fields such as processing, manufacturing and supporting industries to which Vinh Phuc pays special attention when attacting investment will make effective cỏntributions to general cooperation between the two localities.
On the same day, the Ministry of Foreign Affairs and the Ministry of Planning and Investment of Vietnam cooperated with Tochigi Prefecture Government to organize the Vietnam-Tochigi Economic Forum. Representatives of 10 localities of Vietnam, leading enterprises of Tochigi and Vietnam were participating in the conference.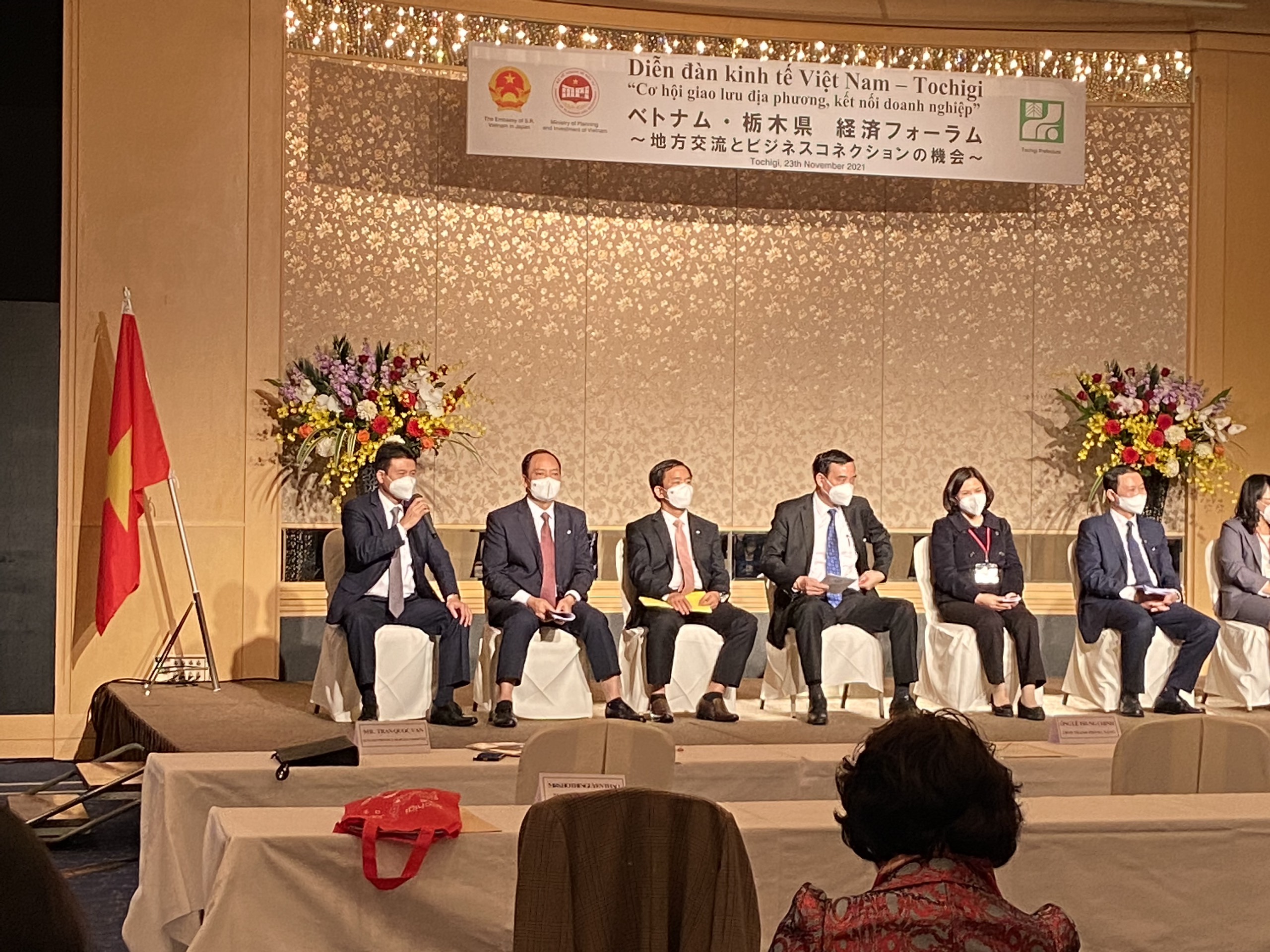 By the end of October 2021, Vinh Phuc had attracted more than 426 FDI projects, with registered capital of over USD7.1 billion, of which Japan has 56 projects with USD1.46 billion (mainly coming from Honda and Toyota corporations). In particular, Sumitomo Group invested around USD100 million to build Thang Long Industrial Park in Thien Ke and Tam Hop communes (Binh Xuyen district) with total area of ​​213 hectares in 2015. In March, 2015, Vinh Phuc and Akita Prefecture signed a Memorandum of Understanding to strengthen comprehensive cooperation in the fields of economy and agriculture.
Tochigi Prefecture is located in central Japan and in the northern region of Kanto. It borders Fukushima to the North, Gunma to the west, Saitama to the south and Ibaraki to the southest. Utsunomiya is the capital and largest city of Tochigi. Area: 6,408 square kilometers (ranking 20th in Japan). Population: about 1,974 million people (ranking 18th). GDP (2020): USD79.4 billion (ranking 16th). Tochigi is one of the developed prefectures in processing and manufacturing; leading in pharmaceutical, medical, transportation equipment, automobile, aircraft and industrial transportation. Tochigi Prefecture promotes a "multicultural symbiotic society" where both the Japanese and foreigners can conveniently and comfortably live.