Tuesday, 09/11/2021 15:52:18 (GMT+7)
Vinh Phuc Department of Planning and Investment organizes a conference to support Compal Vietnam Co., Ltd. to seek for supply chain partners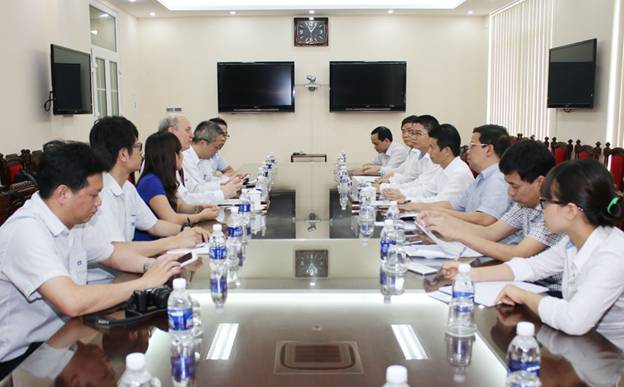 The outbreak of the Covid-19 pandemic has had serious impacts on the production and business activities of enterprises in the whole Vinh Phuc and even the country. One of the biggest difficulties is the high risk of supply chain disruption as suppliers in Bac Ninh, Bac Giang… are forced to temporarily stop operating or stop supplying materials in compliance with local government's Covid-19 prevention policy.
On June 17, 2021, after the Provincial People's Committee approved, the Department of Planning and Investment held an online and face-to-face conference to look for potential suppliers in Vinh Phuc for Compal Vietnam Co., Ltd. The conference would not only remove difficulties in product sourcing for Compal, but also creat long-term connections between DDI and FDI enterprises in Vinh Phuc.
At the conference, the representative of Compal Co., Ltd. gave an overview of the products they want, including: tools, molds, paper boxes, trays,… They said that those products are not difficult to produce but require high accuracy and experienced manufacturers. Thanks to the conference, Denko Vina Co., Ltd. and Accuracy Joint Stock Company could easily discuss in detail. All specific information on technics, output, prices…would be exchanged by Compal Company after the conference.
In response to Compal's statement, Ms. Truong Thi Chi Binh – Deputy President, General Secretary of Vietnam Association for Supporting Industries (VASI) – Delegate of the Conference, confirmed that many Vinh Phuc's enterprises who are members of VASI are fully capable of meeting the requirements of Compal. VASI and Department of Planning and Investment hoped Compal create more opportunities and conditions for local businesses to improve their own capacity.
The conference was said to be successful, receiving a number of good feedbacks from businesses. Department of Planning and Investment of Vinh Phuc would continue to suppport and connect related businesses with Compal Co., Ltd.