Monday, 05/09/2016 11:14:44 (GMT+7)
The investment promotion activities of Vinh Phuc Province in Czech Republic
Under the investment promotion program of 2016 in Europe, from 30 July to 01 August 2016, the Vinh Phuc investment promotion delegation led by Nguyen Van Tri – Deputy Secretary of Provincial Party Committee cum Chairman of Provincial People's Committee, had organized investment promotion activities in Czech Republic.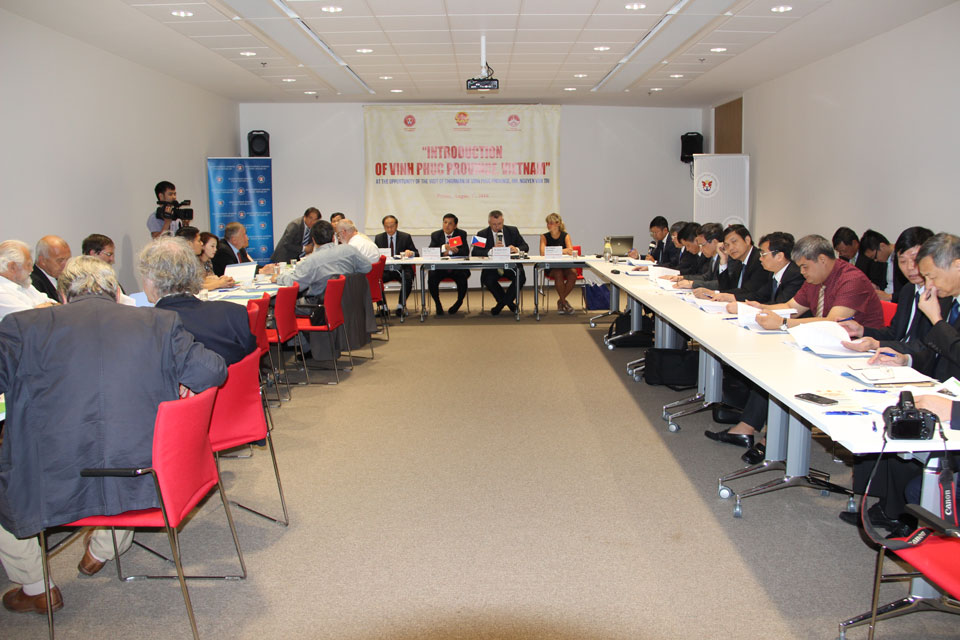 On 1 August 2016 in Prague, Vinh Phuc delegation in cooperation with the Embassy of Vietnam in Czech Republic and Czech Chamber of Commerce,  held the seminar Introduction of Vinh Phuc Province, Vietnam" attended by Czech enterprises. Chairman Nguyen Van Tri, Vietnam Ambassador Truong Manh Son and Mr. Borivoj Minar, Vice President of Czech Chamber of Commerce co-chaired the seminar.
At the beginning of the seminar, Ambassador Truong Manh Son briefed the recent development of friendly relations and economic – trade cooperation between the two countries, emphasizing on the needs of Vietnamese economy and the capabilities of Czech enterprises.
Then, Mr. Nguyen Van Tri, Chairman of Vinh Phuc People's Committee introduced Vinh Phuc's economic development situation in recent years, the potential as well as the demand for foreign investment projects in the near future. He stressed that Vinh Phuc desired Czech enterprises to invest in the province, considered them as its citizens and committed to create all favorable conditions for Czech investors to do business effectively.
At the seminar, the director of Vinh Phuc Investment Promotion Agency (IPA Vinh Phuc) analyzed the strengths and advantages of Vinh Phuc's investment climate; the policies on investment attraction and support; the specific sectors and projects called for investment. Six strengths of Vinh Phuc investment climate are favorable geological, natural conditions and transportation; investors and enterprises support from the local Government and local people ; simple and fast-processing administrative procedures by one-stop shop mechanism; young population, labor abundant; and rich cultural and historical traditions; integrated socio-economic infrastructure basically installed in a modernized way; great opportunities for supporting industry for automobile, motorcycle, electronics, and tele-communication.
Speaking at the seminar, Mr. Borivoj Minar, Vice President of Czech Chamber of Commerce confirmed that he as well as the Czech Chamber of Commerce would call for investment and advise Czech enterprises to invest into Vinh Phuc in particular or Vietnam in general. The most concern was the local legal basis for Czech enterprise to avoid any investment risks. He said a business trip to Vinh Phuc was planned for Czech enterprises to learn Vinh Phuc's investment climate. He appreciated the necessity of the trip when Czech enterprises could collect the technical information on Czech-Vietnam cooperation in various areas of mutual concern and on the technology that could be supplied by Czech enterprises and be in the demand of Vietnam.
Czech enterprises discussed with Vinh Phuc's leaders and enterprises on a number of issues related to investment climate in Vietnam, including investment incentives and protection, investment sectors and the focal point tackling problems of investors. Some Czech enterprises wanted to learn more details on investment on beer production and animal feed for livestock and poultry in the province. Some enterprises looked forward to the support of Vinh Phuc in cooperation with Vietnam's commercial banks. At the end of the seminar, Czech enterprises and all members of Vinh Phuc delegation directly talked together to find out their needs and the possibility of establishing investment channels in the province.
On the sidelines of the seminar, Mr. Nguyen Kim Khai, Vice Chairman of Vinh Phuc People's Council was interviewed by some reporters of Vietnam News Agency; Voice of Vietnam (VOV) permanently resided in the Czech Republic on investment attraction orientation of Vinh Phuc in the coming time. Vinh Phuc hopes that after this "launch" seminar, Vinh Phuc will attract some Czech enterprises to invest in mechanical engineering, supporting industries for the production of automobiles and motorcycles, electronics industry and etc.
Earlier, on 30 July 2016, Vinh Phuc delegation paid a working visit to the office of Embassy of Vietnam in the Czech Republic. Ambassador Truong Manh Son and some key officials warmly welcomed the delegation. Chairman Nguyen Van Tri Ambassador Truong Manh Son exchanged some information on Vinh Phuc economic- social situation and cooperative relations between Vietnam and Czech. The Ambassador said the relations between Vietnam and Czech had been developing well after Vietnam-EU Trade Agreement was signed. European enterprises in general and Czech enterprises in particular had paid more attention to investment in Vietnam. The Embassy was ready to bridge to Vinh Phuc and the Czech Republic in investment attraction.
On 31 July 2016, at Sapa Trade Centre in Prague, Vinh Phuc delegation had a meeting with some key officials of the Embassy of Vietnam and the leaders of Vietnam Association, Vietnam Business Association and the Executive Committee of Vinh Phuc Fellow-countrymen Association in the Czech Republic. During the meeting, Mr. Nguyen Van Tri introduced the investment attraction policies of Vinh Phuc to Vietnamese expatriates and call Vietnamese business in the Czech Republic to invest in Vinh Phuc. The meeting left a lot of good impressions, warmth in the heart of expatriates and members of Vinh Phuc delegation. /.
The Czech Republic is in Central Europe, a country with two major European geographical dividing lines; with diverse terrain: delta accounted for 4.5%, hills region accounting for 50.1%, mountainous region accounting for 11.6%, plateau accounting for 38.9%. Czech covers an area of 78,866 square kilometers and has 10 million inhabitants. In 2014, GDP reached nearly US$ 290 billion, per capita income of US$ 27,200, the economic structure: agriculture accounted for 1.8%, industry accounted for 39.6%, services accounted for 58.6%. Regarding industry, the Czech Republic has the strength in auto transport industry, metallurgy, machinery, glass and weapons. Regarding agriculture, the main agricultural products are wheat, potatoes, sugar beets, hops, fruit, pork and poultry. Vinh Phuc is interested in the Czech investors with a number of auxiliary mechanical industry, brewing, glass and vocational training.