Tuesday, 09/11/2021 15:36:27 (GMT+7)
Report of Japan Desk's activities in the first 06 months of 2021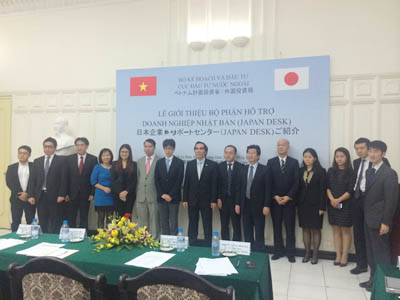 In the first 6 months of 2021, Japan Desk Vinh Phuc has carried out a number of activities to effectively support and connect Japanese investors with local authorities.
According to the report of Department of Vinh Phuc Planning and Investment, Japan Desk has mainly held meetings and worked online for 06 months due to the complicated Covid-19 epidemic. Regarding administrative procedures for investment, Management Board of Industrial Parks has issued new investment registration certificates for 03 projects of Japanese investors. Investment procedures were completed ahead of time compared to regulations. Thang Long Vinh Phuc Industrial Park Co., Ltd has attracted 04 new investors, of which 01 investor has been granted Investment Registration Certificate and Business Registration Certificate.
The Management Board of Industrial Parks, the Department of Planning and Investment and related agencies have closely coordinated with Thang Long Vinh Phuc Industrial Park Co., Ltd to receive and appraise the projects; completing the draft of the application for Investment Registration Certificate.
Japan Desk members have been actively responding more than 100 inquiries related to epidemic prevention and control in accordance with the regulations of the Government, the Ministry of Health and the Provincial People's Committee. The agency provided important information, documents and even participated in the conference between the Secretary of Provincial People's Committee with Toyota, Honda companies on June 10, 2021. Moreover, a special support group for such firms has been established to swiftly grasp their difficulties in the period of social isolation and compliance with the province's regulations on Covid-19 prevention and control.
In the near future, the Department of Planning and Investment would suggest the Provincial People's Committee recruit more personnel and ensure effective operation from  Japan Desk. In addition, Japan Desk would always accompany enterprises to achieve the due goal of the Government and maintain good relationship between Japanese investors and Vinh Phuc province./.