Thursday, 04/08/2016 16:03:09 (GMT+7)
German investors interested in investing into Vinh Phuc, Vietnam
In the investment promotion trip in Federal Republic of Germany, from 27 July to 30 July 2016, Vinh Phuc delegation led by Mr. Nguyen Van Tri – Deputy Secretary of Party Committee cum Chairman of People's Committee had some activities on investment promotion in Berlin and Frankfurt, Germany.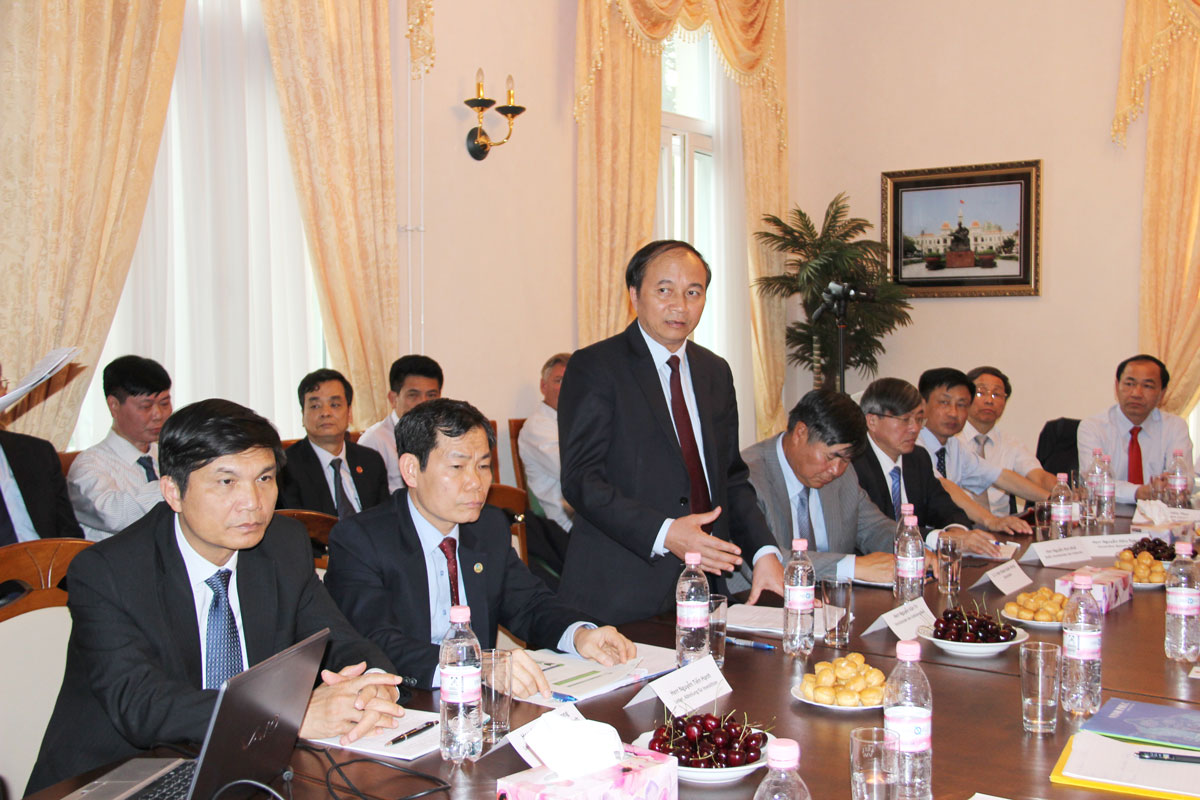 In coordination with Embassy of Vietnam in Germany, at the afternoon of 29 July 2016, the delegation held a seminar "Meet Vinh Phuc" at the headquarters of the Embassy. The seminar was attended by Mr. Doan Xuan Hung – Vietnamese Ambassador Extraordinary and Plenipotentiary to Germany; Mr. Daniel Müller – Regional Manager ASEAN of German Asia-Pacific Business Association; the representatives of the Chamber of Commerce and Industry of Berlin and German Business Association of Berlin; and many Germany businesses in Berlin and its neighboring localities.
Addressing the opening of the seminar, Ambassador Doan Xuan Hung presented an overview of the relationship between Germany and Vietnam in recent times. The ambassador said: Germany is the largest trading partner of Vietnam in Europe, accounting for 19% of Vietnam's exports to the EU and also an important gateway to transit Vietnamese goods to other markets in Europe. In recent years, bilateral trade turnover between the two countries has doubled from US$ 4.1 billion in 2010 to US$ 7.8 billion in 2014. The major items exported by Vietnam to Germany include footwear, garments, coffee beans, furniture, seafood, leather and electronics. However, the direct investment inflows of German into Vietnam is not high, only US$ 1.41 billion, ranked 5th in European Union. In particular, in the total capital of more than US$ 3.45 billion invested by foreign investors into Vinh Phuc, German investment is just accounted for only US$ 250,000 which is a small number as compared to the potential of German investors.
Chairman Nguyen Van Tri – Head of Vinh Phuc investment promotion delegation introduced an overview of Vinh Phuc, investment opportunities and incentives to business guests. He also highlighted the advantages regarding geographic location, abundant labor resources and good technical infrastructure as well as strongly committed to supporting German investors. Apart from calling direct investment, Vinh Phuc also wishes to cooperate with German enterprises and organizations in many other sectors, such as solid waste disposal, wastewater disposal, technology transfer, vocational training and etc.
At the seminar, Mr. Nguyen Tien Hanh – Deputy Chief of the Office of People's Committee cum Director of Investment Promotion Agency (Vinh Phuc IPA) analyzed six advantages of Vinh Phuc's investment climate, emphasized the investment calling and support policies of Vinh Phuc, and outlined the sectors and projects that Vinh Phuc is calling for investment.
As a representative of German businesses, Mr. Daniel Müller thanked Vinh Phuc People's Committee for creating the opportunities for German businesses to attend the seminar regarding investment, cooperation opportunities in Vinh Phuc. Mr. Müller said: the German Asia-Pacific Business Association (OAV) is a leading network of German companies with interests and activities in the Asia-Pacific region. OAV is based in Hamburg and is a home for more than 500 German enterprises. As appreciated by OAV, Vietnam is getting the most attention of German businesses due to its competitive advantages, such as: important geographical location, open business and investment climate, etc. Especially, among 63 provinces and cities across the country, OAV highly appreciated Vinh Phuc. Mr. Müller said the information provided by Vinh Phuc province was very interesting for OAV members to consider, especially about its favorable geographical location, adjacent to Noi Bai International Airport and its young labor force.
However, he also said the appropriate investors interested in Vinh Phuc was not large corporations, so Vinh Phuc should focus on calling investment from small and medium-sized enterprises participating in global production chains. Moreover, the information on investment sectors should be more specific to meet information exchange requirements of OVA businesses.
The two sides exchanged views on the issues of mutual concern, such as: Vietnam's regulations on investment, cooperation in vocational training, labor export into German, nurse apprentices, supporting industry, solid waste treatment and etc. At the end of the seminar, Mr. Daniel Müller promised to visit Vinh Phuc in the near future to learn more about business and investment opportunities.
On 27 July 2016, Vinh Phuc investment promotion delegation had a meeting with 02 German enterprises at Consulate General of Vietnam in Frankfurt on the projects of new material production and information technology application in education. Chairman Nguyen Van Tri highly appreciated the technological advantages of new materials introduced by the enterprises which is lightweight, highly fire resistant and mainly used in civil construction, road building and military. At the invitation of the Chairman, the enterprises will arrange the earliest trip to Vinh Phuc in September, 2016 to learn more carefully about investment environment before making any investment decision. /.