Friday, 10/09/2021 8:20:12 (GMT+7)
Strategies for keeping the "Eagle" nest in a former hot spot for Covid-19
Vinh Phuc province, where a wave of Covid-19 was sparked by the hurried repatriation of a group of workers from Wuhan (China), was successful in fighting the potential pandemic outbreak from the Karaoke Bar Sunny right from the first night, while also attempting to boost its GRDP (Gross Regional Domestic Product) to a leading position.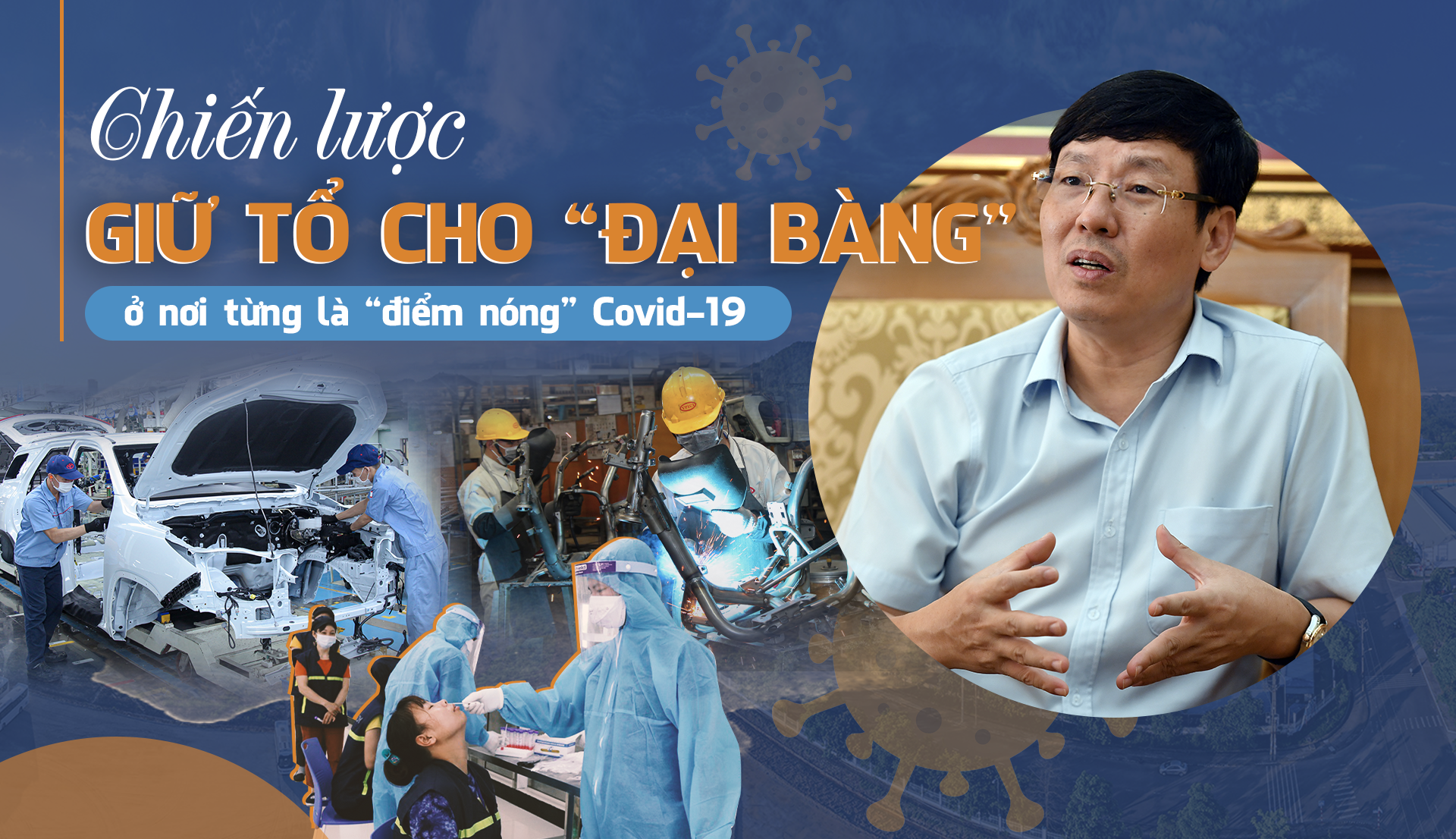 Mr. Le Duy Thanh, Chairman of the Vinh Phuc Provincial People's Committee, repeatedly used the word "unprecedented" when referring to directives, administrative policies, and issues arising in the province's real situation during a conversation with Dan Tri News about the prevention of the Covid-19 pandemic.
The Provincial Chairman also declined to credit the favorable outcomes of the pandemic fight to his merits, instead stating: "It was the Provincial Party Committee's prompt, stern, and profound guidance, as well as the authorities' and residents' resolve and determination."
While the world's first wave of Covid-19 occurred in Wuhan, China, the pandemic in Vietnam began in Son Loi, Vinh Phuc, and the general population was terrified of the virus spreading within the country as a result of a group of citizens and employees returning with diseases. Vinh Phuc was the country's first province to rejoin the fight. Mr. Thanh, the province has also experienced large social distancing times, so have any special decisions been issued and enforced in the province?
Our first goal is to arrange and implement the Prime Minister's, Government's, and Central Steering Committee's orders in a harsh, systematic, innovative, and strict manner, while maintaining our adjustments to reflect the reality of Vinh Phuc province. Vinh Phuc interpreted the government's statement that "fighting the pandemic is like battling the enemy" as an order. When a local case of Covid-19 was discovered, it meant that an "enemy" had appeared, hence the state was shifted "from peacetime to warfare."
Vinh Phuc issued a resolution in 2020 regarding the pandemic's urgent situation, delegating responsibilities and powers to the Provincial People's Committee in dealing with the outbreak, with the Chairman of the Provincial People's Committee having the authority to issue administrative orders and decisions. The Provincial People's Committee and the Chairman are given the power to requisition, issue prohibitions, and order people to follow provincial policies. They also have abilities that go beyond their natural authority.
What's the deal? When it comes to fighting an epidemic, time is the key. We've chosen the ideal time to make the proper decisions, the most notable of which is the decision to isolate the whole Son Loi commune of Binh Xuyen district during the pandemic's onset in 2020, which is a first. There has never been zoning or isolation for an entire commune-level administrative border in Vietnam since the country's inception.
Due to the lack of a legal basis at the time, we had to consider everything carefully and thoroughly. The single and most important thing we can adhere to is Directive 05 on "Promoting the study and emulation of Ho Chi Minh's concepts, morals, and style," which states unequivocally that "do what is good for the people without fear of faults." On this premise, the Provincial Party Committee's Standing Board decided to isolate the entire Son Loi commune, which is also the first in the country to be subjected to such a circumstance.
 The Covid-19 epidemic in the Karaoke Bar Sunny (Phuc Yen city) on the April 30th and May 1st holidays has been a contentious source of worry, with conflicting information about the operation of this service business spreading over social media. How did the local authorities approach and handle the situation when faced with such pressure in order to stop the epidemic, comfort the public, and delete false information?
The disease in Vietnam had resurfaced then. When a case of Covid-19 was discovered at the Sunny Karaoke Bar (Phuc Yen), the Provincial Steering Committee for COVID-19 Prevention convened an emergency meeting at 0:00 to devise a plan of action. On the night of April 30th, anybody connected to the bar was investigated, and by the morning of May 1st, we had managed to control and block all areas containing those involved in the incident. We modified our strategy from "investigating, tracking, and testing" to "encirclement, blockade, preemption, and interception" in response to the Prime Minister's directive to "proactively battle the epidemic."
In order to implement the new approach, we had to make a lot of modifications. When an F0 case was discovered previously, we would investigate, verify, test, and review the number of F1 and F2 cases. For the time being, when an F0 arises, the initial step is to locate his complete residence area before blocking it and performing necessary duties such as investigating and tracking the linked persons in the isolated region to prevent the virus from spreading. We swiftly contained, controlled, and finally succeeded in quelling the epidemic and stopping it from spreading out into society, with more than 100 cases of Covid-19 in just two weeks. Our police force fared admirably when it came to the "interception" technique.
The people's knowledge and the government's strictness in handling the situation are, without a doubt, the most crucial factors in Vinh Phuc's success. Vinh Phuc suspended ten district and commune officials, as well as many district presidents and directors of specialized departments, within a month. Along with harsh sanctions for unruly officials, a strong focus was placed on encouraging and mobilizing citizens to actively participate in epidemic prevention activities.
Vinh Phuc boasts a variety of industries and production lines of prominent brands like Toyota, Honda, and Piaggio as a province with various industrial zones that have drawn a large amount of FDI. Notably, Covid-19 has always "attacked" places connected with industrial zones in the past, yet the production chain has never been disrupted. What has Vinh Phuc done to reassure businesses and FDI investors while ensuring production and business safety?
We have based our policymaking and implementation on the ideas of the Government and the Prime Minister, which is to achieve the "twin aims" of battling the pandemic while attaining socio-economic progress. We didn't get these two concepts mixed up or misconstrued; therefore we worked hard to attain these "dual goals." However, it is vital to emphasize that anti-epidemic initiatives have always been prioritized in order to ensure prevention and societal safety. Vinh Phuc has focused on high-risk locations such as industrial zones and companies when adopting epidemic preventive measures.
Developing regulations for 5-step processes in the organization, tracking worker movements inside the enterprise, and issuing distance and accommodation regulations are only a few examples of particular steps that can be cited. We've also put in place several mobile teams to monitor and handle the situation regularly. For example, these teams will do frequent Covid-19 testing and screening at Honda, Toyota, and other significant corporations, assuring that "production is the duty of businesses, but battling the epidemic is our business." Not only does this reduce the virus's risk, but it can also protect businesses, which is why they have backed the government's pandemic policies wholeheartedly.
Early risk screening was also carried out on a big basis. From the start of the Lunar New Year in 2021, firms in commercial centers, supermarkets, and businesses with high-risk groups of employees must screen at least 3% of their entire workforce every week. The number for other high-risk firms is between 3-5 percent, and this approach focuses on groups of drivers, salespeople, receptionists, and canteen staff, who must be tested for Covid-19 every week.
We have attempted to maintain this strategy by prioritizing the task of combating the disease in industrial zones and enterprises. We have to admit that we have a great belief in this strategy, particularly in its ability to have a positive impact on society. It is the safety of enterprises that has allowed them to exist and operate normally in any environment, even though they may have to produce under very severe conditions and stringent government oversight. While other businesses face challenges as a result of the pandemic, those in Vinh Phuc province see this as a good opportunity. In general, significant manufacturing and FDI firms in Vinh Phuc have all seen positive results in the first six months of this year, with some rising by up to 200 percent.
Some may view our anti-epidemic narrative to be fortunate, but protecting enterprises, stabilizing output, and prioritizing safety have shown to be a prudent move in attracting and promoting investment while also establishing a favorable climate for economic development. This is, in my opinion, the most important strategy.
So you don't believe your success is due to chance, but rather to a well-thought-out strategy from the start, and this demonstrates the crucial role of the People's Committee and other authorities in Vinh Phuc province in attracting international corporations, doesn't it?
 No, I don't believe so; if I say so, others will assume we're smug. In terms of luck, I believe it exists to some degree, but it should be noted that Vinh Phuc's policy has never changed. We are committed in our beliefs and have never wavered in our commitment to fighting the disease while still promoting economic growth. We declared when the pandemic struck that we would be able to resist it and protect both people and production at all costs. Our priority in the fight against the epidemic is to protect production facilities and enterprises, as these are the most likely areas for the virus to spread.
For example, 5,000 workers at a business may interact with 5,000 families, and the members of those 5,000 households may interact with a variety of other people. You will not be able to predict the repercussions if a person contracts the virus. As a result, it's critical to build a stable environment for production and industry while also protecting the safety of industrial zones and businesses, laying the groundwork for economic growth.
We have created dormitories and prepared many roomy spaces for tens of thousands of workers and foreigners to stay for free thanks to the "three together" policy. Foreigners are not permitted to leave the area, migrate to another location, and then return to Hanoi or risky/epidemic areas. You must stay in Vinh Phuc if you choose to work there.
We've requisitioned roughly ten hotels, ranging from three to five stars, with costs that aren't more than VND 500,000 per day. In addition, we provide on-the-spot housing for businesses. These options are presented so that foreigners can choose which one best suits their needs and tastes. They will undoubtedly participate in the prevention of the pandemic if they think it reasonable and have no objections.
Vinh Phuc's economic growth rate (GRDP) was 14.21 percent in the first six months, placing it first in the Red River Delta and third in Vietnam. It's not simple to achieve this success in the setting of a pandemic, therefore the question is: "When did the risk of production and economic interruption appear?"
 It has nothing to do over time. It's a question that's asked all the time. The production chain can be broken at any time and under any conditions. As a result, we are always vigilant and interested in every detail, striving to create the best possible conditions for businesses to thrive.
If Honda's plants in Bac Ninh or Bac Giang are having problems, we can deploy workers to help on-site and assist their suppliers and partners. It is the first time that the General Directors of Honda, Toyota, and Piaggio have been allowed to meet with the Provincial Chairman, Provincial Vice Chairman, and local departments to discuss their work, including the daily discussions to find solutions to the epidemic and improve business operations.
Businesses in Vinh Phuc are running smoothly, yet some external circumstances have an impact on their commercial outcomes. The production and business of firms, particularly those in Vinh Phuc, have been influenced by social separation in parts. The manufactured goods are unable to be sold, resulting in a stalled production line.
Toyota is being forced to suspend operations due to a lack of storage space in its manufacturing, not because of the pandemic in the area. All products delivered to Hanoi and the Southern Provinces are unable to be shipped, a situation Honda and Piaggio are also experiencing.
We've formed a 12-person working group with specific responsibilities to assist firms. They are entitled to use the Provincial President's authority to handle unusual instances. Any company can contact them at any moment to submit a request and obtain prompt assistance and resolution.
The working group you just mentioned makes me feel like they're epidemic prevention and control "superheroes." Could you describe some typical activities they've completed, particularly when using the Provincial Chairman's power in an emergency?
 There are no leaders or senior officials in this working group. They are employees, however, the Provincial Chairman and Vice-Chairman are in charge of them directly. They must be able to communicate in a foreign language, master information technology, be politically aware, have a sense of duty, and be able to assist people and enterprises.
Recently, about 11:00 – 12:00 pm, a woman called this working group and sadly explained that she was pregnant and had been sent to the Hanoi Obstetrics & Gynecology Hospital by the Provincial Hospital for emergency treatment and that she had had a cesarean section. She and her kid were permitted to leave the hospital five days after giving birth. When she called home, she was informed of the policy of a 21-day concentrated quarantine for persons returning from epidemic areas, which included Hanoi.
Going to the intense isolation unit after five-day labor was difficult for a woman who had just given birth. People returning from epidemic zones, including pregnant women, are required to spend 21 days in concentrated isolation under the restrictions. So, what are our options for dealing with this issue? At the moment, the working group needed the Provincial Chairman's permission to allow the mother and her infant to be self-isolated at home while being closely observed by medical personnel.
In another case, two foreigners working at a company in Vinh Phuc wished to get vaccinated against Covid-19 at the Vietnamese Embassy in Hanoi. However, because Hanoi is an epidemic hotspot, they were required to quarantine for 21 days before returning to Vinh Phuc, which would certainly disrupt company operations and production. They convened the working group to discuss the problem.
Finally, two foreigners were able to visit the Embassy in Hanoi for vaccinations thanks to the Provincial Chairman's decision-making authority. The most astonishing aspect was that they were all required to wear medical protective gear. Furthermore, the two foreigners were required to pay the car rental charge, be closely observed for departure and arrival, sign the Commitment, and accept full responsibility for the activity.
It is unique and out of the ordinary that you have delegated the Provincial Chairman's authority to a working committee to deal with pressing concerns. So, in your community, could you describe the legal corridor, the head's obligations, and the management of individual and group infractions in epidemic prevention and control?
 Every day, the pandemic creates hundreds of problems, necessitating the development of a working group to collect data and address these issues. It will not be effective, however, unless there is a process in place to deal with any issues that develop. As a result, Vinh Phuc quickly released a People's Council Resolution with nine points, including a "change of status and recognition of the epidemic's urgent state" across the province. "Recognition of the urgent state" entails a willingness to empower the Provincial People's Committee and the Chairman of the People's Committee to make decisions, even if they go beyond their authority and current regulations, in order to keep the direction and administration in line with reality, to create the best conditions for people and businesses while ensuring epidemic prevention.
Within a few months, Vinh Phuc had suspended ten officials from across the board and had prosecuted eight instances connected to the Covid-19 outbreak prevention and control. These were historically significant numbers. We are adamant about not allowing any official to sit on the sidelines and ignore the epidemic prevention and control mission. All infractions must be dealt with by the law. We have rewarded many positive examples, swiftly acknowledged several individuals and groups with remarkable successes in the fight against the virus in the past time, in addition to disciplining, suspending, and dealing with violators.
There are two major tasks to do. To begin, residents must be encouraged and mobilized, with the goal of better understanding the epidemic and actively combating it for themselves, their families, and the community. Second, in terms of epidemic prevention and control, severe discipline is required. Issues should be answered satisfactorily, comprehensively, sensibly, and responsibly for directing and administering. Officers must also avoid becoming delinquent and overconfident, and they must accept personal responsibility.
What goals do you set for the direction to sustain such accomplishments and assure economic growth in your province as the commander in charge of pandemic prevention and control and Chairman of the Provincial People's Committee?
We, like other provinces, are hesitant to set any precise goals in the current environment. Many solutions and scenarios for the future have been considered and created, one of which is to make Vinh Phuc a pandemic-free province. By all means, we will become a safe zone free of Covid-19 instances. We've created four scenarios to deal with a re-emergence of the epidemic. The first is that no positive cases are occurring in Vinh Phuc's community, which is difficult yet desired to achieve.
Thank you sincerely!