Tuesday, 09/11/2021 15:47:40 (GMT+7)
Seminar of investment cooperation between Vinh Phuc and Tuscany, Italy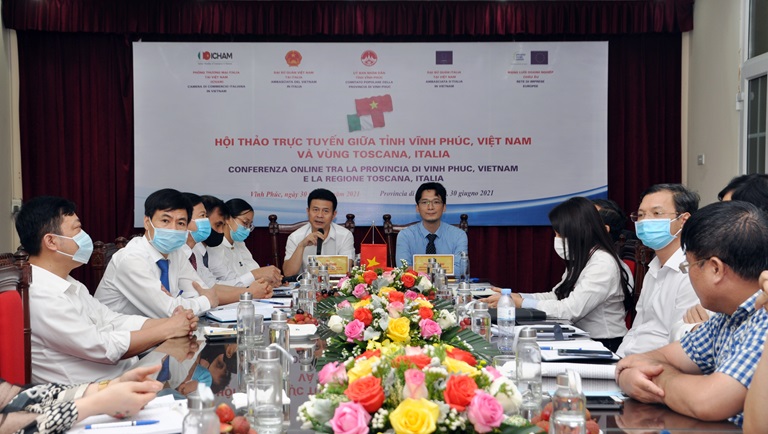 On the afternoon of June 30, People's Committee of Vinh Phuc Province coordinated with the Italian Chamber of Commerce in Vietnam (ICHAM), the Vietnamese Embassy in Italy, and the Italian Embassy in Vietnam to organize a seminar with Tuscany, Italy in terms of investment cooperation.
Mr. Vu Chi Giang, Provincial Commissioner, Deputy President of the Provincial People's Committee and Mr. Pham Hoang Hai, Executive Director of ICHAM co-chaired the conference. Attendants of the meeting comprised leaders of several departments and branches of Vinh Phuc.
Italian representatives consisted of Ms. Nguyen Thi Bich Hue – Ambassador Extraordinary and Plenipotentiary of Vietnam to Italy; Ms. Cecilia Del Re – Coucillor of Florence City; Mr. Giuseppe Salvini, Secretary-General of the Chamber of Commerce; and Industry of Florence and some Tuscany Governors.
Mr. Giuseppe Salvini and Ms. Nguyen Thi Bich Hue made an opening speech, followed by Mr. Pham Hong Hai's presentation of the potential in terms of investment cooperation opportunities and Free Trade Agreement with the European Union.
Currently, Italy has been investing in 17 out of 63 Vietnam's provinces, of which Vinh Phuc is the leading one with two projects including: Piaggio Vietnam Co., Ltd. And its Engine factory. The registered capital reached 90 million USD, accounting for 30% of the total investment capital of Italy. They have been put into operations with nearly one thousand employees and annually contributing 180 billion VND to the state budget.
Tuscany is a region in central Italy with an area of ​​​​about 23,000 square km and population of about 3.8 million inhabitants. It is known for cereals, olives and wine. Tuscany is among the Italian regions for the textile industry, shoes, clothes, chemical, petroleum, mechanical…
Affirming that Vinh Phuc and Tuscany have many in common, Mr. Vu Chi Giang suggested Vietnamese Embassy in Italy connect government of two regions to motivate cooperation in industry, services, tourism, fashion, architectural planning, urbanization…
In addition, the Deputy President requested close relationship between Pontedera city, Pisa province and Binh Xuyen district, Vinh Phuc province in the field of investment attraction, economic development, trade promotion, education, health care,…The establishment of representative offices would facilitate the exchange and provision of information, and also support commercial transactions…
In the end, Mr. Vu Chi Giang sincerely thanked and looked forward to receiving more assistance from the Italian Embassy in Vietnam, the Vietnamese Embassy in Italy, the Italian Chamber of Commerce in Vietnam and  Tuscany government in investment coordination between Vinh Phuc and Tuscany. "All Italian investors and businesses would be welcome and respected"_he stated.